News : Silent improvements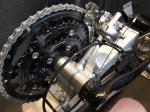 18-02-2017
We try to improve our Velomobiles where we can, this goes sometimes unnoticed.
Like, we changed our frontderailleur and the way it is mounted.
Now we use a Sram X9 low pull triple derailleur , and the pin it is mounted on is reinforced with a plate. This way the shifting is more direct and precise. And there is less chance of derailling.
There are more improvements  we do not give notice of. Like : a tougher clear coat paint, antislip coating onthe back of the seatpadding, extra wleding or stronger pipes where we sometimes used to have cracks.
This way our velomobiles get secretly better, while some people think not.
That's why we felt we should tell it sometimes.
Greetings from team Velomobiel.nl