Welcome
to Velomobiel.nl 's website, the company dedicated to development, production, sales and service on velomobiles. Read more at about us...
Check for latest developments our blog.



We are also very good at crash repair. email us for a quote.
What is a velomobile?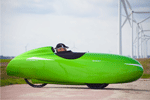 - a human powered vehicle for daily use with a shell for comfort, weather protection and luggage space;
- the aerodynamic shape provides relatively high speed with low physical effort;
- read more about our velomobiles Quest, QuestXS, Strada and Quattrovelo.
Users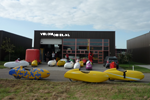 - Quest, Strada and Mango drivers already booked 31 977 785 km. More about the drivers statistics read here. Take a look at the rider and bike statistics drivers' list;
- want to learn more about drivers and their velomobiles? The drivers' list has a lot of links to private sites and blogs of our customers.
- book your mileage through drivers settings.
Parts/Accessories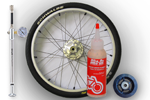 - all parts we use to build and maintain our velomobiles can be bought seperately and sent by mail;
- we also sell accessories like stickers, mirror cones, arm rests, t-shirts or wheel alignment tool.
Actueel
5 Apr 2021

We determined the prices for the Snoek and the options. Standard the Snoek will be fitted with a lightsystem (1 IQ-X headlight, rear-, brake-light and blinkers. It will get 2x11 Shimano derailleur system,

13 Feb 2021

12 Feb 2021

Cold feet in the Quattrovelo? Order your foothatch with bulges now! https://www.velomobiel.nl/accessoires/ A solid carbon epoxy version is 70,- . A version with polyuretan bulges that can indent
More news…
9 Apr 2021

By Eva Jacobs This week we started the production of Snoek No 3 for Matthias König. Our first plan was to make it lighter than the two previous ones. The latest tests have shown that we should stick to

2 Apr 2021

Door Eva Jacobs In Roemenië wordt een nieuwe set mallen gemaakt, wij houden onze mallen voorlopig hier. We willen hier nog Snoek 3 en 4 lamineren.We hebben deze week hard gewerkt om alle onderdelen van

1 Apr 2021

Door Eva Jacobs Afgelopen week zijn er twee recensies over de Snoek verschenen. De eerste is gepubliceerd in het tijdschrift van de Nederlandse Vereniging voor Human Powered Vehicles – Ligfietsen&.
2e hands
9 May 2021

8 May 2021

8 May 2021