News : New dealers added, more welcome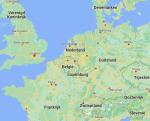 12-01-2022
Our dealerlist was outdated, so we made an update.
We have more dealers now in several countries.
More dealers are welcome, just email us for requirements and benefits.
One thing we value most is offering good repair service. This is what customers need most.
Do keep in mind that being closer than 100 to 150 km from another dealer is not very usefull for customers, nor for the chance of a succesfull business.
Best regards, Theo
Velomobiel.nl