News : E-assist now available on all our models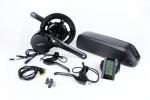 29-10-2020
We found a partner to build in E-assist in our models. We can offer a Bafang midmotor incl a 468Wh battery for 1500,- (incl. vat) on all our models. A bigger battery is possible. (612Wh or 752Wh)
The E-assist will stop at 27 km/h (EU law) . This is most interesting for people living in hilly areas.
Riding faster than 27km/h will cost a bit more effort than riding without the same velomobile without E-assist.
A faster version (till 45 km/h) is not available , due to NL and EU approval laws for Speed-pedelecs, which we cannot apply to.
Greetings, Theo van Andel
Team Velomobiel.nl