News : Video of new model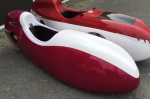 25-08-2020
This model was first named Quest RS , but is now called Snoek  (Pike in English, Hecht auf Deutch)
We will make a small series of this model. It is a real racing velomobile with a big turning radius and little ground clearance. Only this way you can make a fast velomobile.
People of 155cm to approx. max 178 cm fit in this mdel. weight about 20 Kg.
Deliverytime and Price will come later, Delivery time is at least 6 months.
https://www.youtube.com/watch?v=Ommj3r5N1Y8