Quest - Intro
The Quest costs € 6250 (€ 5165 ex VAT)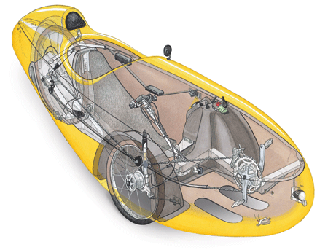 The Quest is a comfortable & fast trike for daily use. The Quest has two steering front wheels with drum brakes and a driven rear wheel (tadpole configuration).
Comfortable through independent suspension on all three wheels, weather protection. You can reach a relatively high speed with low effort.
Fast through a wind tunnel tested aerodynamic shape and a high end drive drain.
Safe through the protecting body, good visibility by a bright yellow colour, integrated head protection, little influenced by cross winds and a cover of soft foam.
Practical for daily use through the large luggage space, low maintenance drive train (stays clean) and drum brakes, single side mounted wheels (easy tyre change) and only 76,5 cm width.