News : New prices Quattrovelo 2017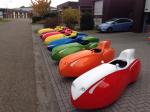 24-12-2016
The Quattrovelo is now fully in production.
This gave us a better view on the production cost.
Sadly we cocluded that a raise in price is neccesary.
For this you will get a full carbon body, a full light system with 2x 80 lux headlights, brakelight, interiorlight, blinkers, horn, lithium battery and usb chargepoints
You're welcome to come and check out our Quattrovelo
Quattrovelo from: 7700,-

Standard: Lightsystem (12V battery, charger, 2x Cyo 80Lux, blinkers,
horn, interiorlight, brakelight), 10 gears, speedometer, Ventisit cushion,
foamcover, SPD pedals, pump, extra tire & tubes, tools.

Options:

Schlumpf Mountain drive (2x10 speed) 500,-
Disck brakes in rear 375,-
Head under hood 250,-
2 colour paint (upper/lower part) 200,-
metalic paint 300,-
2nd mirror 15,
Mirrorcone 30,-/pc
90 mm drumbrakes 25,-
Extra battery 50,-
Armrests 35,-
Trailerhitch 50,-
GPS support on wheelwell 15,-
Prices since 1-1-2017 www.velomobiel.nl