News : From Shanghai to Stuttgart in a Quattrovelo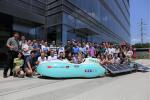 18-09-2020
Joerg Gebers is now riding his Quattrovelo with Solar-trailer from Shanghai to Stuttgart.
Originally they planned to go with 3 Quattrovelo's , but because of Covid19 he was the only one able to do the trip.
You can follow him on his blog-site. He makes very interesting clips. Enjoy .